The Audio Mixer 3.2 is a sound effects engine that uses real time mixing to increase the number of sounds that can be played simultaneously. It is designed to offer good performance even on low end Amiga systems, such as the Amiga 500.
For more information, see the
Audio Mixer 3.2 project page
.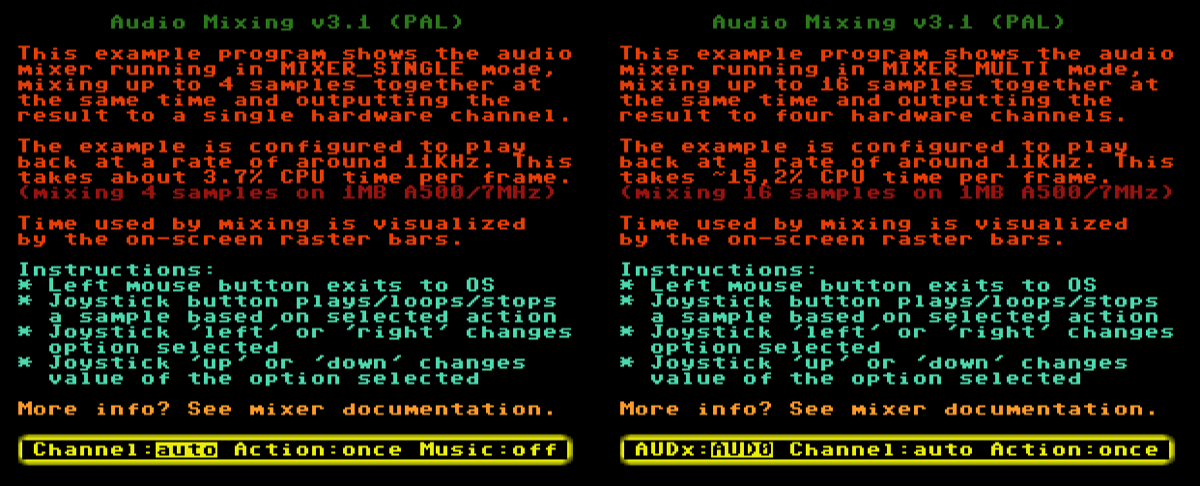 Above: the title screens for two of the included example programs (version 3.1).
System requirements (for running the examples)
:
Any Amiga or emulator*
1MB of RAM
Kickstart 1.3 or higher
Mouse & Joystick
Download:
AudioMixer_v3.lha
Download:
AudioMixer_v3.zip
Readme:
AudioMixer_v3.readme
The project is written in MC68000 assembly as well as C and contains full source code and all files used to make the program.
*) Any emulator or Amiga computer 100% compatible with the OCS/ECS or AGA chipset. Untested under Amiga OS versions beyond 3.1, MorphOs or other clones. Not tested on 68040+ processors, nor CPU replacements such as the PiStorm or Vampire. Compatible with 512KB of Chip RAM or more.